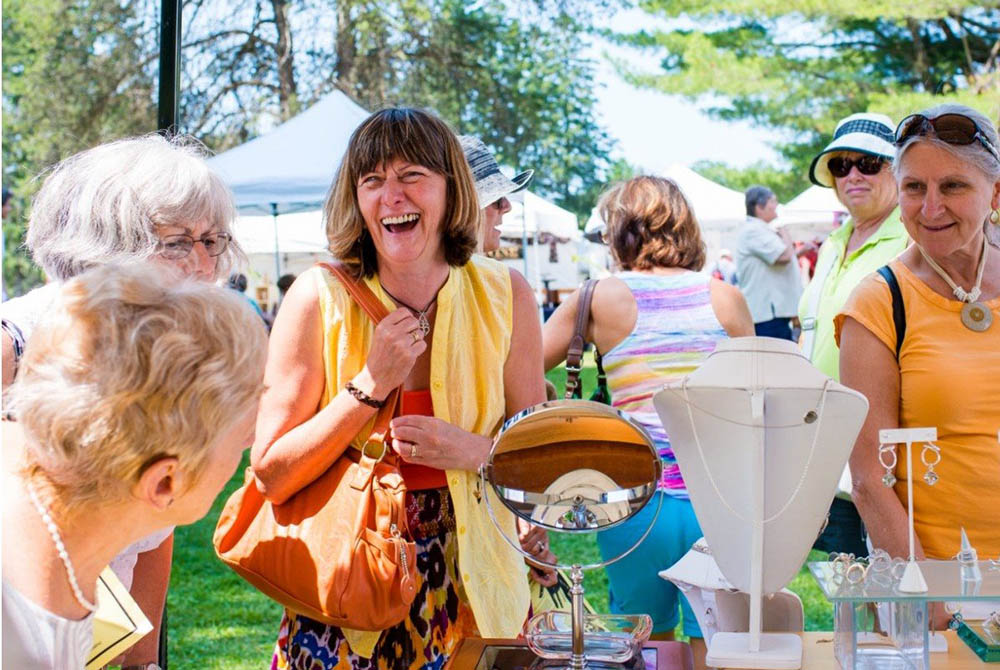 Summer Show
Muskoka Arts & Crafts' 59th Annual Summer Show is a much-anticipated summer tradition in Muskoka, drawing visitors from everywhere to the beautiful grounds of Annie Williams Memorial Park in Bracebridge. One of Ontario's oldest and largest outdoor craft shows, the Summer Show brings 200 artists to Muskoka this year—a lively mix of new and returning exhibitors.
Much has changed since Muskoka Arts & Crafts held its first show in 1963. For that inaugural show, an estimated 3,000 people visited Memorial Park in downtown Bracebridge to view the work of more than 50 artists.Today, an estimated 18,000 people visit the three-day show to see the artwork of 200 artists. What hasn't changed is that Muskoka Arts & Crafts' Summer Show continues to be a visual treat for all who enjoy purchasing, collecting and learning about art and craft in all its forms.
All the work presented at the Summer Show is handmade by the artists, in their studios, and is one-of-a-kind work of the highest quality. The 200 artists exhibit in all art and craft media including basketry, clothing, fibre, furniture, glass, jewellery, leather, metal, mixed media, painting, photography, pottery, sculpture, toys, weaving, woodworking and more.
The annual Summer Show is Muskoka Arts & Crafts' most important fundraiser. Admission to the show is by donation and all the proceeds benefit this non-profit visual arts organization by providing support for its public art gallery as well as many artistic events that take place throughout the year.
When your stomach starts to growl, head over to the Food Court where there are delectable and lip-smacking items to enjoy en plein air. There's something for every taste, including vegetarian, vegan, organic and gluten free foods.
In the tradition of the last five decades, the 59th Annual Summer Show promises to live up to its well-earned reputation. Come and meet 200 talented artists and craftspeople, hear their stories, be inspired, see new work and purchase handmade works of art.
COVID-19 Information:
Muskoka Arts & Crafts' first and foremost priority is for the safety and health of its artists, volunteers, customers, service providers, staff and community. For all our events, Muskoka Arts & Crafts follows the directives and procedures provided by all levels of government and the public health unit. As this event draws near, please check this listing for any changes.
Hourly Schedule
Friday, July 16th
Saturday, July 17th
Sunday, July 18th