SEPTEMBER 29TH – OCTOBER 14TH 2023
SUPPORT HOSPICE MUSKOKA
OPENING RECEPTION SEPTEMBER 29TH 4-7PM
This is an exclusive event for our membership to celebrate our year end and meet the incoming board members
Please RSVP if you wish to attend
Awards, Volunteer Appreciation, Cocktail party, Hors D'oeuvres, Music
Featuring Serena WestWritten By: Steph Schofield https://www.muskokaregion.com/things-to-do/muskoka-magic-falls-onto-the-canvas-with-serena-wests-artwork/article_9cd90e94-feb8-531d-86d0-84b093ce376e.html
read more
EXCLUSIVE OFFER
Deadline: 29 September 2023
Available to Premium MAC Members 
There is $100 yearly fee to access this perk. This fee covers maintenance, administration and software costs.
APP BENEFITS
MAC APP Shop
Improved customer engagement
Turn browsers into consumers
Rewards program & incentives
Direct marketing/push notifications
Interactive mapping for art tours
+ Much more to come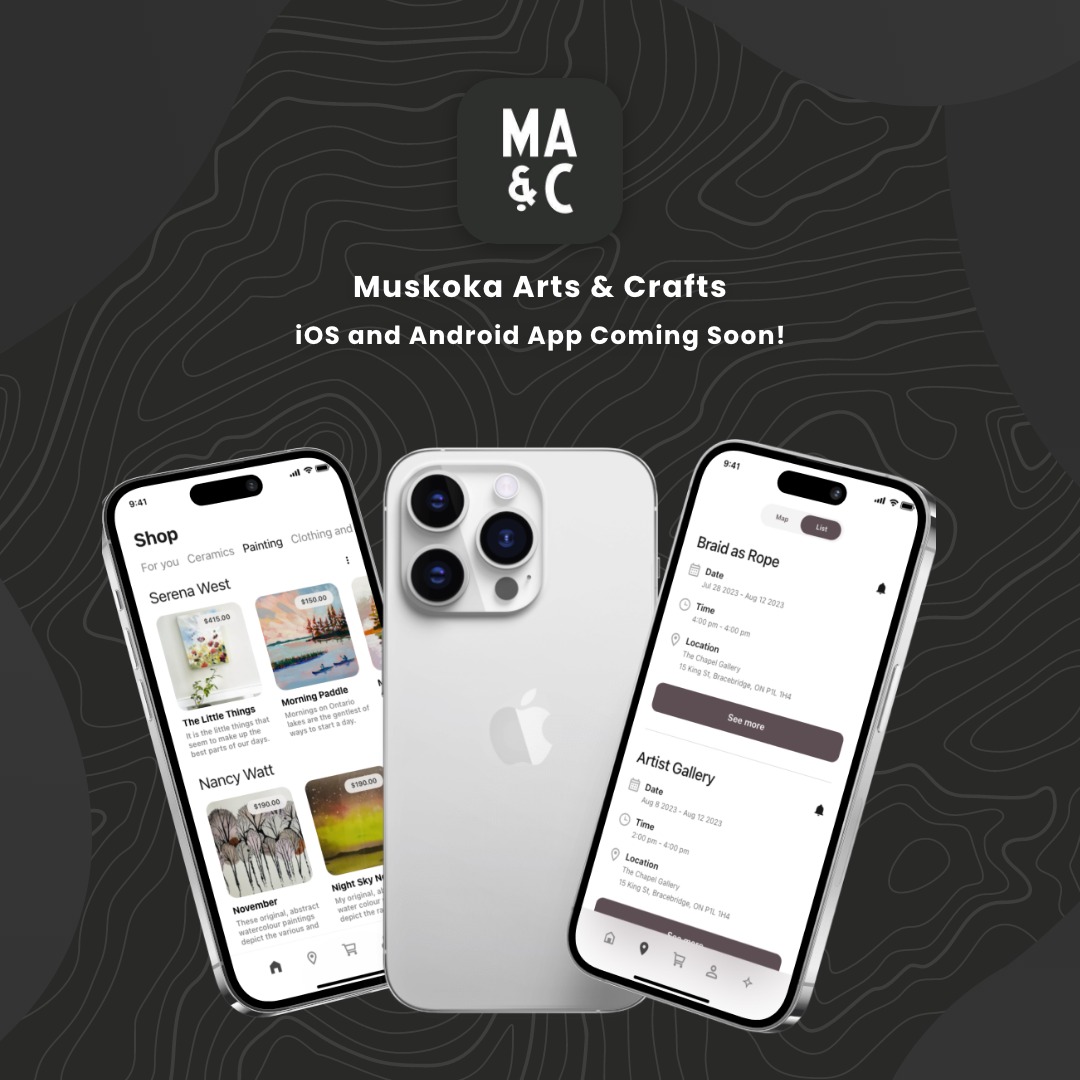 Current Chapel Gallery Show
FOR THE LOVE OF DOGS
Opening Reception
08 September 2023 4-7pm
Exhibition Dates: 08 Sept – 23 Sept  23
A show that explores how dogs give meaning to our families and our lives.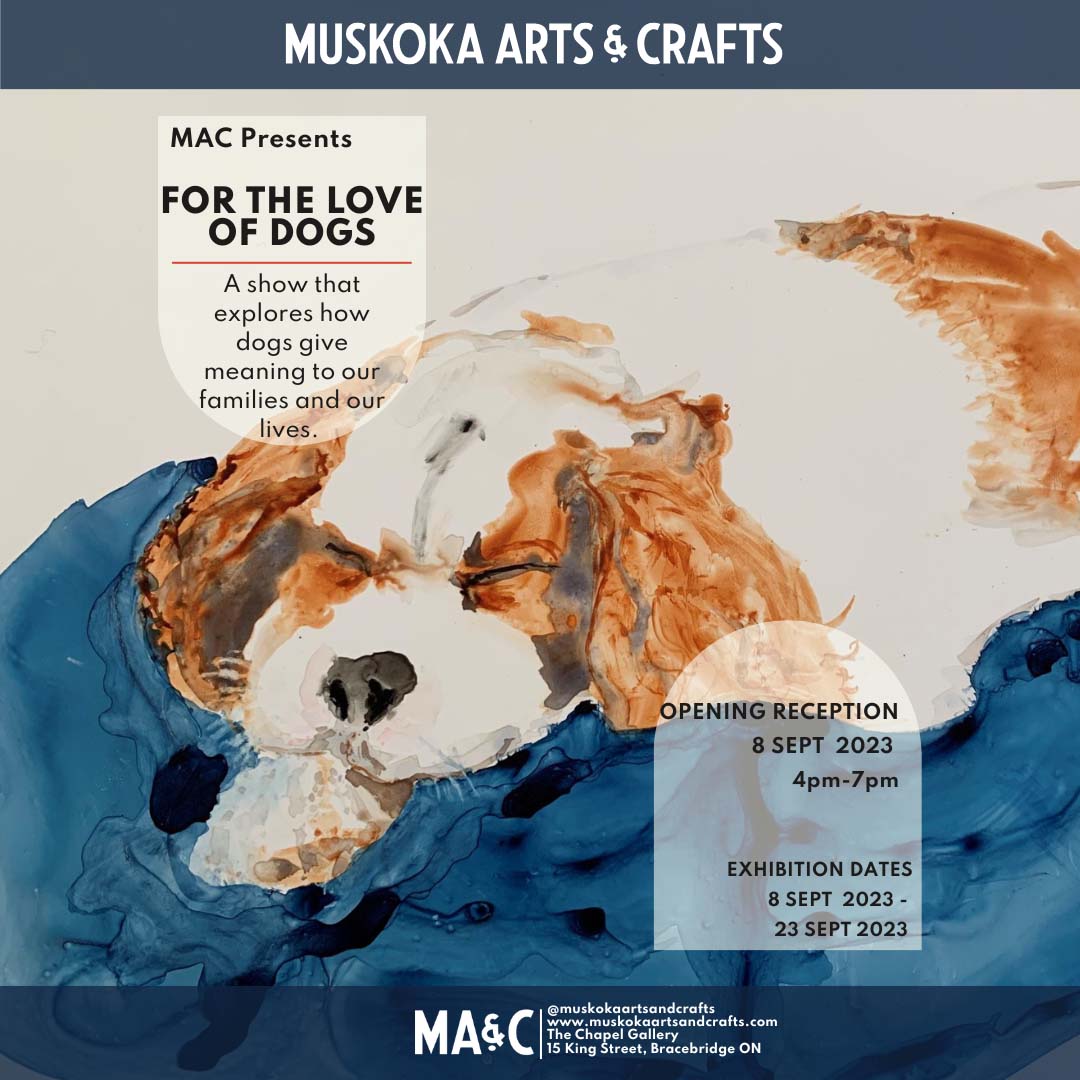 CALLING ALL MAC MEMBERS
RSVP by October 13th if you wish to attend this year's AGM.
Thursday October 26th 2023 4-7pm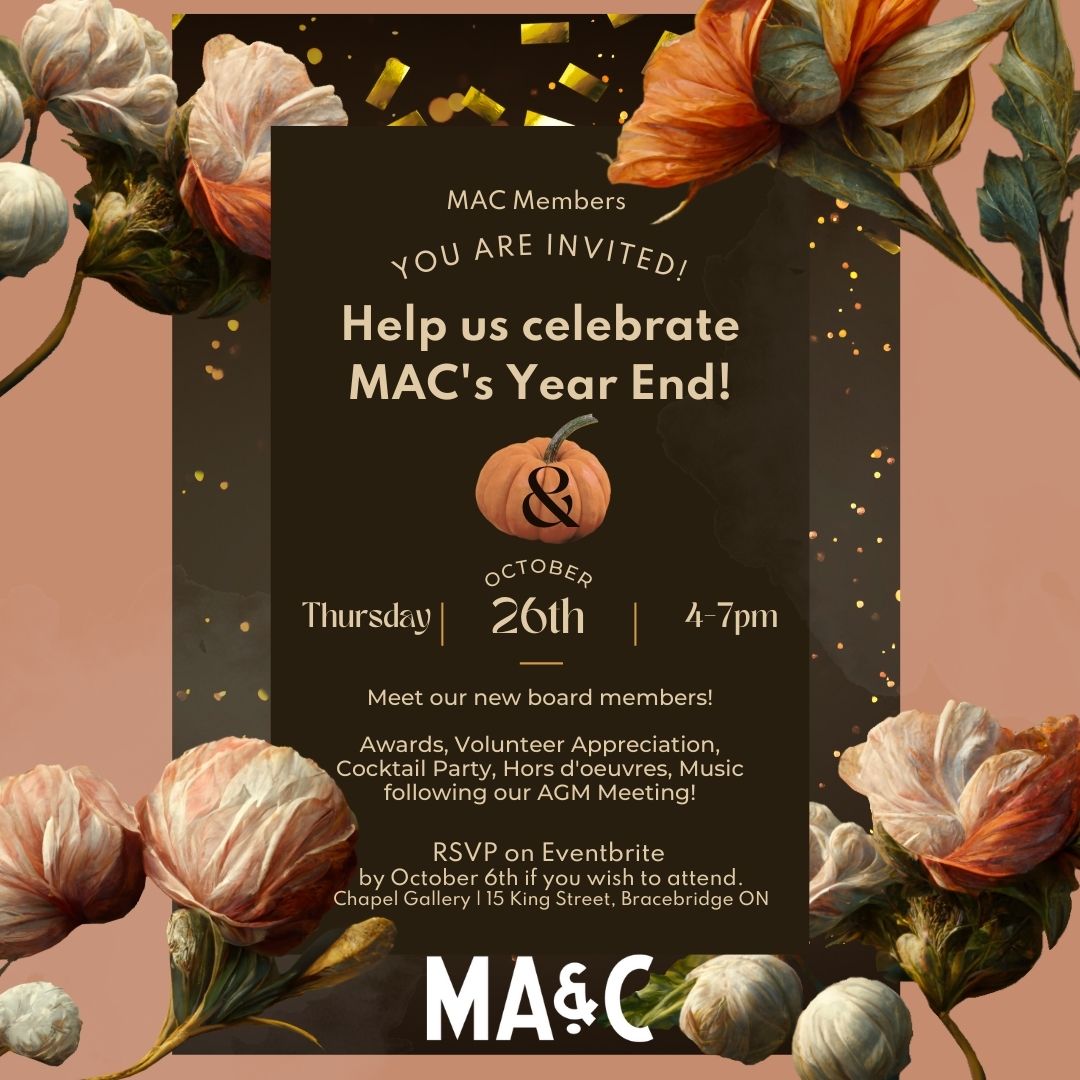 15 King St, Bracebridge, ON P1L 1H4
15 King St, Bracebridge, ON P1L 1H4
No event found!
Why You Should Become a MAC Member
Muskoka Arts & Crafts was founded in 1963. Our amazing MAC community is made up of over 300+ artists, craftspeople, collectors & art lovers, supporters, patrons and businesses. We are constantly striving to ensure the arts remain strong and vibrant within the Muskoka community. In order to grow this iconic organization we need you: your ideas, your support, your wisdom, your creativity.
The Muskoka Arts & Crafts online store offers works from our members across a range of mediums. Take home a bit of Muskoka or keep up with your favourite artist.